About The Artist
A propos . . .


" Né à Paris en 1961. Marc Bauer-Maison est un artiste qui vit au Canada. Il a étudié à L'Ecole des Beaux-Arts, section Architecture à l'Atelier Musso. Après l'obtention de son diplôme d'architecte DPLG en 1986, Marc s'oriente vers la photographie et les média en travaillant au Centre International de Recherche, le CNRS d'Ecully avec Pierre Babin. Deux ans plus tard, il part au Canada et se marie avec Barbara Bauer. Barbara était la nièce du Père David Bauer, fondateur de deux équipes Olympique de Hockey sur Glace: celle du Canada et celle du Japon. Marc est nommé Directeur Exécutif de l'Arche Stratford, fondée par Jean Vanier, de 2004 à 2007. Depuis toujours, Marc a la passion de la montagne. Il a été formé par Marc Salomez, (Professeur de guide de Haute Montagne à Chamonix) et Marc Batard (multiples records de l'Everest). Marc a enseigné l'escalade à l'Association Sportive de Paris V, Université René Descartes. En 1982, une mauvaise chute le forcera à abandonner l'escalade de haut niveau mais Marc reste très attaché au Briançonnais, de la Névache aux écrins ou il revient fréquemment pour s'adonner à sa passion: l'aquarelle et la photographie. Son travail inclut quelques natures mortes et quelques paysages, mais surtout la flore. Sa technique d'aquarelle a graduellement évolué pour devenir plus orientale. Avec le temps, ses aquarelles ont acquis une liberté d'être, une spontanéité inspirée par l'origine chinoise de ses trois enfants. Sa rencontre avec le peintre Alain Bonnefoit, de renommée internationale est décisive. Alain invite à travailler plus librement avec la technique du Sumi-e.


In English . . .


"Since my first exhibition in 1986, nature, as encountered in landscapes and floral expressions, has largely been the subject of my watercolor paintings. In time, perhaps not surprisingly given my chosen subject and the unique challenges associated with the discipline of watercolor painting, my hand began to acquire the simplicity and spontaneity of an "Asian" style. 2009 was a watershed. During that year I had the privilege of attending a class on the female nude offered by the renowned Sumi-e master painter Alain Bonnefoit. Sumi-e, which is also known as Asian line drawing or brush painting, seeks to capture the spirit, the essence, the fundamental nature of its subject with the fewest possible strokes of the brush. What a remarkable point of access to the human form! What a remarkable point of access to our natural beings! What a remarkable point of access to the beauty, the joy, the dignity and the ultimate mystery of the feminine au naturel."


Short Biography


Marc Bauer-Maison was born in Paris, France in 1961. He obtained his Baccalaureate in Mathematics and Natural Sciences in 1979. Always interested in nature and its wonders, Marc developed strong skills in hiking and mountain-climbing. He became the head of the mountain-climbing department of the University of Medicine (Université Paris V). Marc studied Architecture at l'Ecole des Beaux-Arts under the guidance of J-M Musso. After graduating from Architecture, Marc continued his studies in Media and Communication with P.Babin at the Université of Lyon in France before coming to Canada to teach at St. Paul University in Ottawa. It was there that he met Barbara Bauer. Marc and Barbara married in the summer of 1988 in Waterloo, Ontario. He later became a Canadian citizen. Marc and Barbara adopted three children from China: Naomi, Elisha and Natasha. In 2003, Marc was selected to exhibit at the prestigious Salon D'Automne in Paris. The following year, Marc's work was featured in Paris' equally famous Salon des Indépendants. Barbara passed away in August 2005 of breast cancer. Four years later during a trip to France, Marc encountered for the first time the renowned Sumi-e master painter Alain Bonnefoit—an encounter that can only be described as fateful in light of the profound influence that Bonnefoit would have on Marc's own work.


Articles and Quotes




"I am going to stick with flowers - and show you a page of images which are so simplified that they are in places almost drifting off into a sort of "netherworld" of "nothingness" (Think I just invented a word there !) This does make them so appealing to me, MARC BAUER-MAISON is the artist, and it just goes to show that sometimes the minimalist approach can be the best one."

K E N
W I N D S O R
I N T E R N E T
J O U R N A L I S T
(Great Britain)

"The inspirations for the works of Marc Bauer-Maison are diverse, and include such historical sources as Daniel Rabel, Garzoni Giovanna, W.J. Hooker and Albrecht Durer. Additionally, the artist is strongly influenced by the floral works of contemporary watercolourist Cathy Ross. In other contexts, he draws from such 20th century sources as Andrew Wyeth and Julie Vivas. It seems, as we look over the great diversity of work, that we are invited to follow the artist's exploration of the many ways in which nature might be observed and rendered artistically. Whether the individual works may be regarded as "copies" or interpretations, they serve to bring elements of nature out of nature and into our presence. In offering plants and flowers and other subjects for our contemplation, these watercolours enable us indeed a measure of freedom in our meditations upon the relationship of material and spiritual realities."

Dr Michael Bird

Renison College, U. of Waterloo, Ont. Canada

Light upon space upon light
Flowing image of nothingness, yet full
Artist's stroke caressing nature's cheek
And loving it into being

Dawn Kershaw-Halligan
Published in France only. Collaboration with Catherine Duplaa,
Publié par les éditions Jean Brito, Juin 2021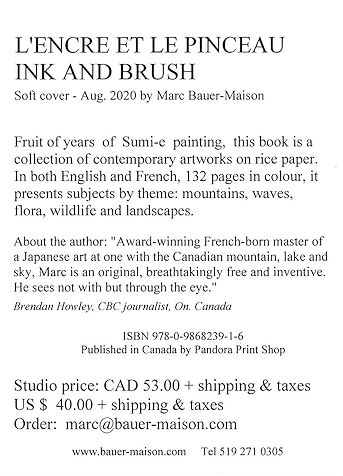 Dr. Robert Aziz's foreword to sumi-e nudes: the integrity of a single stroke
For Marc Bauer-Maison, 2009 proved to be a fateful turning point for his then well-established career of some twenty-four years as a watercolourist. While on a trip to his native France, from his residence in Canada, Bauer-Maison took the opportunity to attend a class on the nude being offered by the renowned, Sumi-e master painter, Alain Bonnefoit. There can be no doubt that when Bauer-Maison walked into Bonnefoit's class in Valence he knew he was in the presence of a great artist. What Bauer-Maison didn't know, however, was the extent to which his twenty-four year career as a watercolourist had prepared him for this moment. What he didn't know was just how 'ripe' he was, to use a Zen term, for the experience of the teaching he was about to receive from this master painter. Far more than he could have even begun to imagine at that time, he, the student, was ready and the master had now appeared.
From the time of Bauer-Maison's first exhibition in 1986, nature, as encountered in landscapes and floral expressions, had largely been the subject of his watercolour paintings. His earlier works were diffuse, blue and green depictions of seas and skies, 'marine watercolours,' as they are called. Then, taking inspiration from the watercolours of the 16th Century artist Albrecht Durer and the works of contemporary artists like Sybil Rampen, Bauer-Maison's work turned to the study of plants, trees and animals. His work was now significantly progressing, yet there was something, he intuitively knew, still missing. "For some reason," as Bauer-Maison relates, "I could not find freedom in those two ways. My artwork was too rigid; it showed movement, but it was not alive." Then something happened. Bauer-Maison took the critical decision to abandon altogether the preparatory pencil work and allow his brush alone to capture what he saw. The result was immediate. By way of this direct, experiential encounter between brush and flowers, brush and trees, his flowers, his trees, to his astonishment, came alive. Subsequent to this, as Bauer-Maison explains, "my hand began to acquire the simplicity and spontaneity of an Asian style." In eschewing the preparatory pencil, inhibition gave way to release. In eschewing the preparatory pencil, Bauer-Maison's hand, and with it his stroke, was delivered from its inhibitive dependence on an 'external,' as it is put in Zen parlance, into a direct, experiential encounter with nature in its suchness. A Zen poem, from the Kamakura era of 12th century Japan, speaks directly to this progression. The text reads:
The bow is broken,
Arrows are all gone –
This critical moment:
No fainting heart cherish,
Shoot with no delay.
The Japanese word sumi-e has enfolded into it two words, one of which denotes 'black or charcoal ink;' the other of which means 'picture or painting.' This, of course, is the outward form of sumi-e; its spirit is an altogether different matter, as its centuries-old relationship with Zen would more than suggest. As with Zen, sumi-e is not so much about what one is doing, but how one is doing it, which is to say, the consciousness one brings to bear on what is being done. Similarly, sumi-e is not so much concerned with the depiction of the manifest forms of life, as it is concerned with the depiction of the essences of those forms. As with Zen, sumi-e at once seeks a direct encounter with, and experiential depiction of, Reality in its suchness. For both traditions, in this regard, whether it is a question of encountering or depicting Reality, less is more. For both Zen and sumi-e, in this regard, the integrity of the stroke with which the less is executed is everything, whether that stroke is delivered by a swordsman or artist.
What follows is a remarkable collection of sumi-e nudes by Marc Bauer-Maison. The depiction of the nude is something with which artists and those studying their works have struggled for centuries. We cannot imagine another artistic presentation that has so consistently attracted controversy. Indeed, we cannot imagine any other artistic endeavor that is so dogged by the perennial question as to what constitutes its sacred and profane forms. Such controversy notwithstanding, the nude remains the most accessible of works of art to the general public, even when it comes to its more abstract and refined presentations. This fact is both encouraging and problematic. It is clearly encouraging to think that the enduring fascination within our culture with something as everyday as nudity would provide such a point of access to the art world. It is disconcerting, on the other hand, to imagine that as a consequence of such seeming familiarity, the artistic presentation of the nude might simply be reduced to what one already knows, rather than serving to lead and inform. The splendor of sumi-e, by contrast, is that it is pretty much impossible to reduce it to the familiar. If it is going to mean anything to us, we need to allow ourselves to be led by it.
Now although in its minimalist-style, sumi-e draws us into the details of the body, importantly, it does not trap us in them. The part, in this regard, rather than serving as an instrument of the objectification of the body as it so typically does, becomes an artistic point of access to the whole, which is to say, the spirit and essence of the individual. This is the artistic challenge of the sumi-e nude, which, not unlike the process of life itself, must come into being, spirit intact, by way of a dynamic process that eschews perfection, while embracing wholeness. Herein, I will conclude, resides the integrity of a single stroke.
Sumi-e Nudes: The Integrity of a Single Stroke by Marc Bauer-Maison released March 2011.
Robert Aziz, Website
Excerpt source:
Daisetz T. Suzuki, Zen and Japanese Culture (Princeton: Princeton University Press, 1973), p. 120.
Artist paints a fine line

Marc Bauer-Maison finds international acclaim with Sumi-e paintings
By Laura Cudworth, The Beacon Herald

Marc Bauer-Maison is confident he's the only artist who shows at the Louvre in Paris and still paints in his kitchen.
His Stratford home is a wonderland of Chinese calligraphy brushes, stacks of rice paper and beautiful paintings. A large piece of felt covers the kitchen table to protect the fragile paper, which after being painted is set out to dry on the kitchen floor.
Yet the humble workspace has not kept his art from being displayed in the most storied and arguably important gallery in the world, home to the Mona Lisa and thousands of other priceless masterpieces.
Bauer-Maison has shown at the Carrousel du Louvre, a section of the gallery that exhibits the work of contemporary painters.
Showing work internationally is the dream of any artist. For a Parisian to show work at the Carrousel du Louvre is the pinnacle.
"It's majestic," he said. "The Louvre has always been revered as The Louvre in Paris. It's magic."
The first time he received an invitation to show at the Louvre he couldn't respond.
"I did not believe it so I sat on it. And I sat on it, and I sat on it. My parents were coming over from France, I picked them up at the airport and I didn't say anything. The day before the deadline I said I have this invitation for the Louvre. I felt so small."
As soon as his father saw the letter he told him he had to respond right away.
"They said, 'You can't let that go.'"
His parents chose the first two pieces that would go into the exhibit because it was such a momentous opportunity he didn't know where to start.
Bauer-Maison came to Canada from France to marry his wife Barbara more than three decades ago. They adopted three girls from Asia and like all couples planned to grow old together. His wife died of cancer 11 years ago.
He was the head of L'Arche Stratford for many years but after his wife died he chose to stay home to focus on raising his girls and on his painting.
"It was walking on snow. Walking on the unknown," he said.
In 2003 he entered the Salon D'Automne. From that point on he entered several more prestigious exhibits and last year he entered the Société Nationale des Beaux Arts, the highest standard for the arts in France.
Bauer-Maison trained as an architect but began painting watercolour botanicals before he moved onto Sumi-e— a Japanese and Chinese genre of art using black ink and calligraphy brushes. The emphasis is on the beauty of the brush stroke.
"Whether you paint a nude or you paint shrimps, you don't judge the subject. It has nothing to do with it. What counts is the quality of the line," Bauer-Maison said.
The paintings appear simple but the difficulty lies in knowing when to stop and in using the paper itself as part of the painting rather than covering it up.
"I'm not afraid to say that I throw away a lot of work," he said. "A pianist who practices in a sense throws away. He doesn't tape every recording."
There are four principles to the line—wet, dry, black and white, the white lines are the paper itself.
A recent painting of a fox consists of just four lines of ink to create the animal.
"Even the absence of ink tells the story. The background becomes the substance."
The minimalist nature of the paintings make them look easy and Bauer-Maison has heard how simple his work must be. His response is to offer critics a chance to reproduce it one of his paintings and he will give it them. They don't come back with a completed painting.
"I think when you try you realize the difficulty," he said.
He also noted, because the paper is so fragile a pencil sketch can't be drawn before the ink is applied.
When he moved to Sumi-e art, he looked for a master to learn from and eventually found Alain Bonnefoit. He worked for several years on female nudes and then wanted to go beyond that. He's been finding inspiration in what he sees around him.
It's fitting his paintings are well received internationally. He paints in an Asian tradition with a French hand and his inspiration has started to come from a Canadian landscape. Recent work includes a snowy farm field and the Breaking of the Ice on Lake Huron, which won a prize from an exhibit at the Grand Palais.
He loves mountains as well and was an accomplished climber in France. Mountains have been appearing in his work of late.
In addition to the Louvre, Bauer-Maison shows his work in other parts of Europe and with regularity in China and Japan.
"It's true I exhibit less here in Canada. It's just the nature of things."
Working in his Canadian kitchen can be isolating. Bonnefoit and like minded artists are in France.
"When you're alone you're dancing on one leg," he said
He will go study with Bonnefoit and others in Tuscany in the fall.
Recent awards for his work include the Gold Award, Toile D'Or 2015 and Medal of Art Cultural Award from China in 2014.
lcudworth@postmedia.com
_____________________________
Source: http://www.stratfordbeaconherald.com/2016/05/16/marc-bauer-maison-finds-international-acclaim-with-sumi-e-paintings